When I was about 16, an older kid I was sorta buddies with got a job as a bank teller and I thought it sounded like the fanciest job ever. Boy, did I have it wrong.
For a year in Olympia, I worked as a teller. I was desperate for the work. Less than a year before I got to town I'd bought an '86 Ford F-150 that immediately shit its guts out and sucked up every last dollar I'd ever earned.
The problem was, I moved to Olympia just after 9/11 – about six months after the Nisqually earthquake beat the shit out of Seattle and everything in some ridiculous thousand-mile radius. Olympia was split into two sides – the west side was full of homes and had the college campus, and the east side had the capital building and all the local business. The two sides of town were connected by a thin, short bridge that got busted up in the quake, and the already-screwed up economy just completely went to hell. Everywhere you looked there were "Going Out of Business Sale" signs posted in windows.
Somehow, I was able to land the job anyway and, despite being arrested on my way to the first day of training, managed to keep the job.
I got there and my God, the bank was depressing.
For one, we had the Labor Ready payroll account. Labor Ready is based in Tacoma and sells itself as the country's biggest provider of temporary manual labor to construction sites. What that means in real world terms is basically this: if you're an alcoholic or a convicted felon, you show up at the work line at 4 or 5 a.m. and hope they give you a job for the day, digging ditches or hammering roof tiles or whatever the hell. You bust your ass all day in the sun or the rain and at the end of each day you get a check.
So these guys would come slumping in, stinking like a homeless guy and tired and hungry and greasy, and they'd wait in line and then try to cash their checks with us. About a quarter of these guys had expired IDs, or the card was so beat-up and weather damaged that you couldn't read the information and we had to send them away. None of them had bank accounts, obviously, so we'd have to get their thumb prints stamped onto the checks. Some guys would have their thumbs all fucked up from work, scabbed up or covered in paint or glue or tar, and they'd leave these thumbprints that looked like a raccoon's paw or something.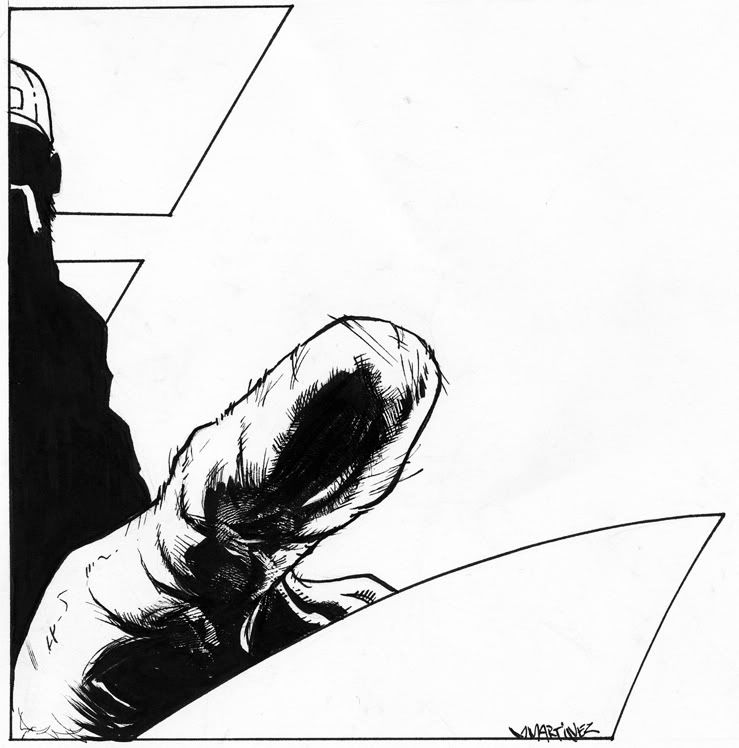 One guy that came in a lot owed a ton of child support and alimony. He'd been ducking it so long that the courts had gotten involved and forced any employer that paid him to garnish the holy shit out of his pay. You know the walk people get when they've just been in a fight? Like a slow stagger, half-deliberate and half-drunk? I never saw this guy walk any other way.
He walked in and stood in line with his stained orange baseball cap and his red plaid jacket, picking at his trucker moustache. He came to me once with his check, signed the back of it and gave me his thumb, and I cashed it out. As I counted out the money, he said, "Do you know how many hours I worked today?"
I looked down; the check was tiny.
"Yeah, rough getting hours these days, huh? I feel for ya, man," I said.
"I worked for ELEVEN HOURS TODAY."
I looked down at the check again. I pursed my lips.
I took out the cash and counted it out to him.
Nineteen dollars and seventy-four cents. Neither enough for a full twenty-dollar bill, nor a full three quarters in change.
I laid the money on the counter between us.
He looked down at it. Then he looked up at me.
"I can't even get drunk on that," he said.
I had nothing to say. What the hell CAN a 20-year-old kid say to a dude in his 40s in that situation? Here I had thousands of dollars sitting in a drawer in front of me. I was making nine bucks an hour – I'd topped this poor sonofabitch's income for the whole day in a little more than two hours. And I felt poor!
We stood there for about five or six seconds. He looked at me with this confused, demanding disappointment. He wanted me to do something, but he didn't know what. Or he knew what he wanted someone to do, but he was wrestling to remember that it couldn't be me that would do it. I just tried to keep as much eye contact as I could – I was completely unable to help, but I didn't want to leaving him hanging, so I figured the best I could do was look him in the eye.
He took a deep sigh, slowly slapped his hand on the counter over the money and slid it back, jammed it in his pocket and walked out.
Another account we had where people would come to cash their checks was the crazy people. Sometimes a court will declare somebody incompetent to handle their own affairs, right? Well, when that happens, that person's money (apparently) gets sent to some corporate handler that squirrels the cash all away and portions it out in controlled, specifically-designated doses to the poor old sap.
This stuff was hyper-specific. I'd get guys walking in with checks for five dollars, and in the memo line it would read, "For cigarettes."
One of my favorites, though, was an old dude named Harvey. He was practically the only black guy in town – Washington State is, in my experience, almost totally white. He was maybe 55 or 60 and the kind of guy you might guess at a distance is homeless, because his coat was ratty and cheap and he wore a knit-wool cap, but when you got up close to him you could see he was wearing clean, modestly-framed glasses and he was perfectly clean-shaven.
The way I got to know Harvey was one day he got in line to cash a money order and the teller who helped him was Barbie.
Barbie was super-hot in kind of a "white trash town in the middle of nowhere" sort of way. I don't mean she had four kids and an "I'm With Stupid" t-shirt so much as I mean that every white trash dude who came in the place would get to the front of the line and then let people go ahead of him until Barbie freed up for the next customer. Every once in a while, when she wanted a new person to treat her seriously, she would introduce herself as Barbara. I would hear it from my little station a few doors down the teller line and it always made me smile.
So one day Harvey comes in, and as Barbie starts cashing this little money order he brought in, he belts out at the top of his lungs: "Yooouuuuu are so beautiful… to me! Yoooouuuu are so beautiful, to me, can't you see?"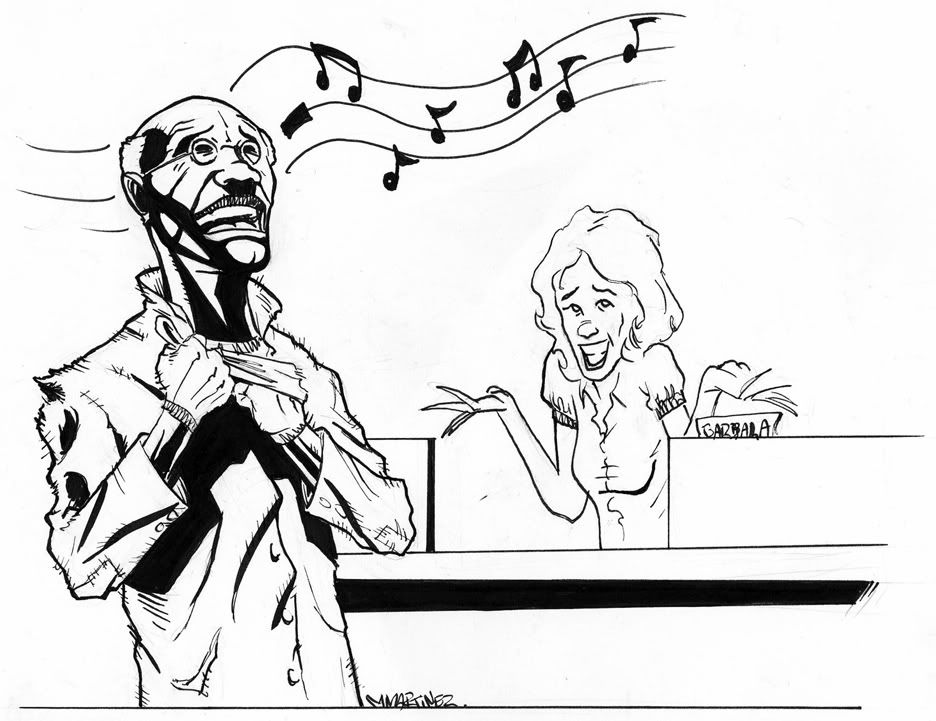 He did the whole song. Barbie had no idea what to do. The entire bank stopped. Everyone was completely absorbed in this guy and the girl he was singing to. He was good, too! He threw his arms up at the emotional notes, held his hands to his chest for the heartfelt, quieter parts, like a whole professional performance.
Barbie had no idea what to do. She giggled. She covered her face, which was red as a drunken Irishman's. She tried to compose herself and crossed one hand over the other on the counter in front of her. Then she busted up again.
When Harvey was done, the whole bank exploded into applause. It was the greatest thing ever.
I got the guy's phone number, and that year for Christmas I bought Molly a steak dinner and had Harvey come into the restaurant to sing to her. Cleared it with the management and everything. To my amazement, Harvey came in wearing a tuxedo! He gave her a rose and sang three or four songs, two that I had chosen and then some improv of his own choosing. If you've never tried this with a guy who breaks into song in public for (almost) no reason, I highly recommend it.
The week after I met Harvey, though, somebody else came into the bank and caused a really amazing problem. We'll tell y'all about that next week.